The Proposed New Constitution and the Union Question
Abstract
It is fifty years now since the formation of the Union between Tanganyika and Zanzibar in 1964. Over that period of time, the Union has experienced some ups and downs. Despite the incessant "Kero za Muungano", it is clear that the Tanzanian Government did not want the Union question to be touched in the new dispensation. This article revisits the Union question in relation to the ongoing constitution making process. It argues that the process has been controlled such that the proposed three-tier government structure is highly disputed by the ruling regime to the extent of threatening the entire process. It further argues that what has bedevilled the effort on the part of Zanzibar at this critical stage in their constitutional history to resolve the "Kero za Muungano" has been party divisions on the islands despite the fact that Zanzibar had recently gone through Reconciliation and formation of Government of National Unity at the end of 2010.
References
Mkumbo, K. 2014. "My wild guess: the three-tier government union structure proposal will be shot down in the Constituent Assembly", (Forwarded by zirpp@googlegroups.com)
Msekwa, P. 2000. Reflections on Tanzania's First Multi-Party Parliament, 19952000, Dar es Salaam: Dar es Salaam University Press.
Sheriff, A. and Jussa, I. 2007. "One Step Forward, Two Steps Backwards: The State of Constitutionalism in Zanzibar in 2007", in Wanza, K. (ed)
Annual State of Constitutionalism in East Africa 2007, Kituo Cha Katiba, Kampala.
Shivji, I. G. 1991. "Towards a new democratic politics", Published in Daily News, 1, 2 & 3 January.
Shivji, I. G. 2008. Pan-Africanism or Pragmatism? Lessons of Tanganyika-Zanzibar Union. Dar es Salaam: Mkuki na Nyota Publishers.
Shivji, I. G. 2013. "The Pitfalls of Constitution-making in Tanzania: the lessons so far", Lecture at UDOM Convocation, 11/2013.
Smith, W. E. 2011. Nyerere of Tanzania. Harare: African Publishing Group.
Warioba, J, S. 2013 "Hotuba ya Mwenyekiti wa Tume ya Mabadilko ya Katiba, Mhe. Joseph Sinde Warioba, Wakati wa Kuwasilisha Ripoti ya Tume", 30 Disemba.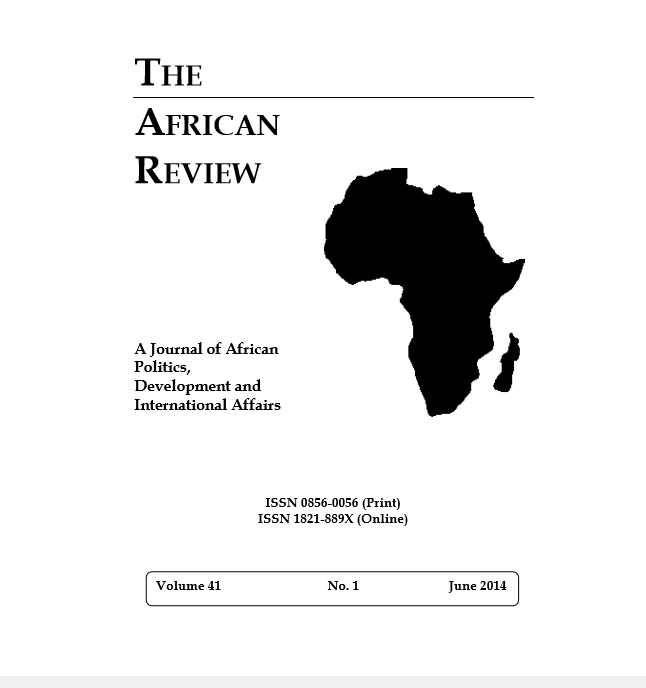 Copyright © by Department of Political Science and Public Administration, University of Dar es Salaam
All rights reserved. No part of this publication may be reproduced or transmitted in any form or by any means, electronic or mechanical, including photocopying, recording, or any information storage or retrieval system, without permission in writing from the publisher, except for short extracts in fair dealing, for research or private study, critical scholarly review or discourse with an acknowledgement.
The African Review: A Journal of African Politics, Development and International Affairs [ISSN 0856-0056 (Print) & ISSN 1821-889X (Online)] is published bi-annually, June and December by the Department of Political Science and Public Administration, University of Dar es Salaam, P.O. Box 35042 – Dar es Salaam – Tanzania