Governing Security at the grassroots Level: Effectiveness of Community-led Security Mechanisms in Dar es Salaam
William J. Walwa

University of Dar es Salaam
Abstract
Security provision, such as the protection of people from crimes has traditionally been regarded as a domain of the State. This article makes a case, however, that as the concept of 'security governance' would suggest, security provision and organization is presently negotiated and organized differently – by a combination of formal, informal organs and voluntary organizations. Indeed, this is a case about Changanyikeni and Kigezi Chini sub-wards in Dar es Salaam region – where data collection took place through qualitative research approach. Community members from these two sub-wards acknowledged that community-led security mechanisms are more close to the people than the police who always come when incidents of crimes have already occurred and sometimes when people have already been injured. In the view of community members, the number of insecurity incidents decline when community-led security mechanisms, such as patrol units of ulinzi shirikishi (participatory security) are effectively operational.
*Lecturer, University of Dar es Salaam, Email: walwajn@gmail.com
References
Black, J. 2002. "Critical Reflections on Regulation", Australian Journal of Legal Philosophy 27: 1-35.
Burris, S., Drahos, P. and Shearing, C. 2005. "Nodal Governance", Australian Journal of Legal Philosophy, 30.
Castells, M. 2000. The Rise of Network Society: The Information Age; Economy, Society and Culture. Oxford: Oxford University Press.
Cross, C. 2014. Community Policing Through Local Collective Action in Tanzania: Sungusungu to Ulinzi Shirikishi, University of Sussex.
Dupont, B., Grabosky, P. and Shearing, C. 2003. "The governance of security in weak and failing states" Criminal Justice 3 (4): 331–349.
Fleisher, M. L. 2000. "Sungusungu: State-sponsored village vigilante groups among the Kuria of Tanzania", Africa 70 (2): 209-28.
Habari Leo. 2015. Hongera Polisi Kunasa Majambazi Stakishari. 22 July.
Heald, S. 2005. "State, Law, and Vigilantism in Northern Tanzania", African Affairs 105 (419): 265-283.
Heald, S. 2002. "Domesticating Leviathan: Sungusungu Groups in Tanzania" Crisis State Program 1: 1-29.
James, B. 2013. "Mwema to quit in December", The Citizen, 27 July.
Kibasso, J. 2015. "Nani Wanaohusika uporaji wa silaha, kuuwa polisi vituoni?" Nipashe, 31 January 2015.
Louw, A., Robertshaw, R. and Mtani, A. W. 2000. Crimes in Dar es Salaam: Results of a City Victim Survey and in Depth Interviews on Violence against Women. http://www.unhabitat.org/downloads/docs/1827_64144_darcrime. pdf (Accessed: 25 April 2014).
Louw, A., Robertshaw, R. and Mtani, A. W. 2001. "Victim Surveys as a Basis for City Safety Strategies", African Security Review 10 (1).
Mallya, E. T. 2008. "Jeshi la Polisi na Mfumo wa Vyama Vingi: Mtazamo Kutoka Nje ya Jeshi". In REDET, The Tanzania Police Force and Transition to Democracy, Dar es Salaam University Press: Dar es Salaam.
Mhina, A. 2008. "Civil-Police Relations". In REDET, The Tanzania Police Force and Transition to Democracy. Dar es Salaam University Press: Dar es Salaam.
Mukandala, R. S. 2000. "Grassroots Institutions of Governance". In Gasarasi, Charles and Mukandala, Rwekaza. S. Governance and Development at the Grassroots in Tanzania, Dar es Salaam University Press: Dar Salaam.
Mushi, P. 2012. Jinsi ya Kuanzisha Kikundi cha Ulinzi Shirikishi, Uzoefu katika Mtaa wa OysterbayF. Manase Publishers: Dar es Salaam.
Mwillo, S. and Chilongola, P. 2015. "Watu Wenye Silaha Wavamia Kituo cha Polisi Dar, Waua, Waiba Silaha", Mwananchi, 13 July, 2015.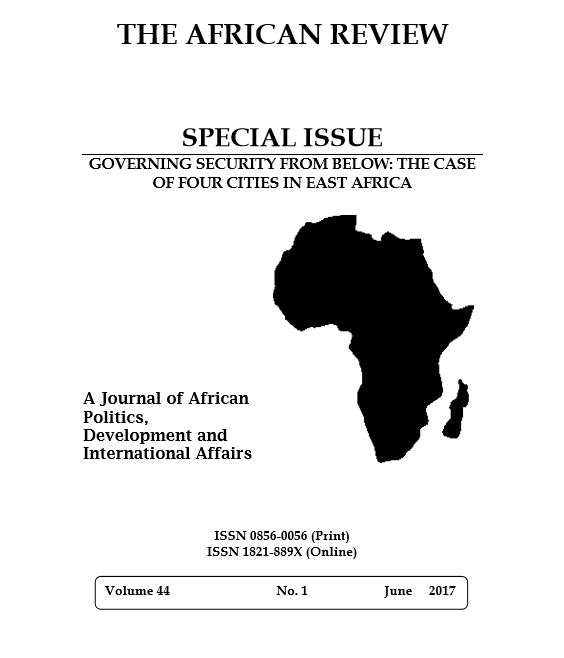 Copyright © by Department of Political Science and Public Administration, University of Dar es Salaam
All rights reserved. No part of this publication may be reproduced or transmitted in any form or by any means, electronic or mechanical, including photocopying, recording, or any information storage or retrieval system, without permission in writing from the publisher, except for short extracts in fair dealing, for research or private study, critical scholarly review or discourse with an acknowledgement.
The African Review: A Journal of African Politics, Development and International Affairs [ISSN 0856-0056 (Print) & ISSN 1821-889X (Online)] is published bi-annually, June and December by the Department of Political Science and Public Administration, University of Dar es Salaam, P.O. Box 35042 – Dar es Salaam – Tanzania