Conceiving the Tanganyika-Zanzibar Union in the Midst of the Cold War: Internal and International Factors
Abstract
To what extent was international pressure placed on Nyerere and Karume to unify their two states in April 1964? The argument made is that even though Americans were initially very pleased with the outcome of the Union—because they thought it would help stem the spread of communism in the region—this was not a Western-initiated plan forced upon East African leaders. Indeed, the evidence shows that Americans were largely in the dark and in fact very frustrated by their lack of influence on the situation. Instead, the Union merely served as a confluence of African and American interests. The internal factors are inspected by highlighting African concerns over outside interference, worries about domestic stability, and a desire by Karume to consolidate his power. Finally, the traditional conceptualization of the TanganyikaZanzibar Union as being either a product of the Cold War or an example of Pan-African idealism will be re-examined.
References
Brown, R. "Jammed Gatling" (unpublished memoirs, mss. in author's possession).
Burgess, G. T. 2009. Race, Revolution, and the Struggle for Human Rights in Zanzibar: The Memoirs of Ali Sultan Issa and Seif Sharif Hamad. Athens, OH: Ohio University Press.
De Witte, L. 2001. The Assassination of Lumumba. London: Verso.
Esedebe, P. O. 1994. Pan-Africanism: The Idea and Movement, 1776-1991, Second Edition. Washington DC: Howard University Press.
Gleijeses, P. 2002. Conflicting Missions: Havana, Washington, and Africa, 19591976. Chapel Hill: University of North Carolina Press.
LBJ NSF- National Security Files held at the Lyndon B. Johnson Presidential Library, Austin, Texas, USA.
Mapuri, O. M. 1996. Zanzibar: The 1964 Revolution: Achievements and Prospects. Dar es Salaam: TEMA Publishers.
Mwakikagile, G. 2008. The Union of Tanganyika and Zanzibar: Product of the Cold War? Pretoria: New Africa Press.
NARA- National Archives and Records Administration of the United States in College Park, Maryland, USA
NARA CIA- Central Intelligence Agency files accessed via the CREST system at the National Archives and Records Administration of the United States in College Park, Maryland.
Okello, J. 1967. Revolution in Zanzibar. Nairobi: East African Publishing House.
Othman, H. 1995. "The Union with Zanzibar", in C. Legum and G. Mmari, eds. Mwalimu: The Influence of Nyerere. Dar es Salaam: Mkuki na Nyota.
Parsons, T. H. 2003. The 1964 Army Mutinies and the Making of Modern East Africa. Westport, CT: Praeger Publishers.
Petterson, D. 2002. Revolution in Zanzibar: An American's Cold War Tale. Boulder: Westview Press.
Sanders, E. R. 2012. "The African Association and the Growth and Movement of Political Thought in Mid-Twentieth Century East Africa." PhD Thesis: University of Cambridge.
Schraeder, P. J. 1994. United States Foreign Policy toward Africa: Incrementalism, Crisis and Change. Cambridge: Cambridge University Press.
Shivji, I. G. 2008. Pan-Africanism or Pragmatism? Lessons of Tanganyika-Zanzibar Union. Dar es Salaam: Mkuki na Nyota Publishers.
Speller, I. 2007. "An African Cuba? Britain and the Zanzibar Revolution, 1964", The Journal of Imperial and Commonwealth History, 35: 283–302.
Wilson, A. 1989. US Foreign Policy and Revolution: The Creation of Tanzania. London: Pluto Press.
Wilson, A. 2013. The Threat of Liberation: Imperialism and Revolution in Zanzibar. London: Pluto Press.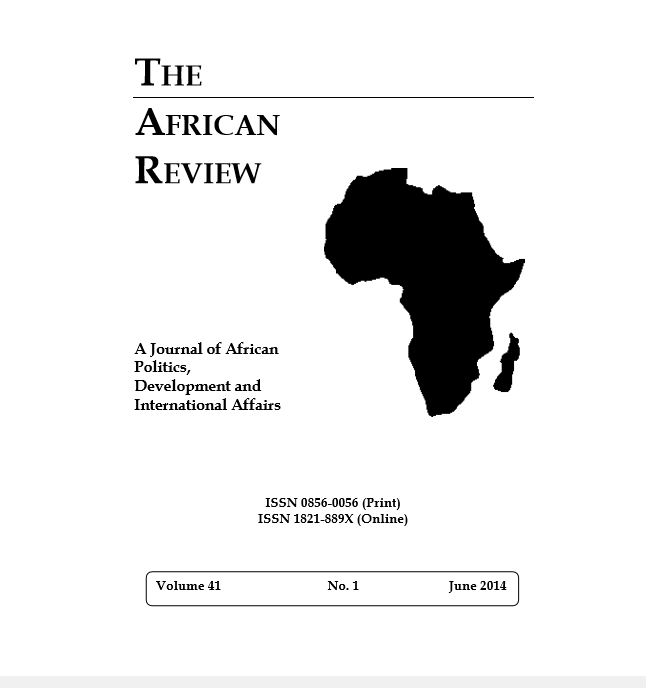 Copyright © by Department of Political Science and Public Administration, University of Dar es Salaam
All rights reserved. No part of this publication may be reproduced or transmitted in any form or by any means, electronic or mechanical, including photocopying, recording, or any information storage or retrieval system, without permission in writing from the publisher, except for short extracts in fair dealing, for research or private study, critical scholarly review or discourse with an acknowledgement.
The African Review: A Journal of African Politics, Development and International Affairs [ISSN 0856-0056 (Print) & ISSN 1821-889X (Online)] is published bi-annually, June and December by the Department of Political Science and Public Administration, University of Dar es Salaam, P.O. Box 35042 – Dar es Salaam – Tanzania