Harmonization of Company Laws in the EAC Region
Linking the Implementation of the EAC Common Market Protocol (CMP) with Cross-border Business Enhancement
Daniel A. M. Shayo

University of Dar es Salaam School of Law

Jan-Erik Schirmer

Humboldt University Berlin
Abstract
Economic integration within the EAC cannot be achieved without the support of company law. Not only because companies are the beneficiaries of integration, but also because they are indispensable vehicles for economic development which is the main goal of economic integration. Our research shows, however, that the company laws of the Partner States differ from one another quite substantially. This is problematic for two reasons: First, from the perspective of a common market, legal differences should be an exception rather than the rule. Second, high disparities among the Partner States produce a need for legal advice which leads to higher transaction costs. As a result, expanding a business from one EAC Partner State into another seems unattractive. We argue that in order to smoothly achieve the goals of integration, the existing differences in the company laws require harmonization. We identify some important areas for harmonization, namely registration procedures, especially regarding single shareholder companies, subsidiaries and branches, as well as company management and corporate governance. All of these areas are crucial for harmonization processes because of their important role in crossborder business expansions. Further, we name certain factors which are the drivers of harmonization of company laws. We also identify the steps taken so far by the EAC Partner States towards harmonization and approximation of company laws, as well as the drivers of harmonization of company law as a component of implementation of the EAC Common Market Protocol (CMP). The political and economic interests of the EAC Partner States in respect of the harmonization of company law are also examined. In addition, we attempt to identify challenges and opportunities experienced in the process of harmonization of company laws. Apart from identifying challenges to harmonization, the study shows that factors such as the EAC institutions, the EAC legislative tool in Rwanda, the availability of similar investment institutions in the EAC, positive views regarding the introduction of an EAC limited liability company, and the prevalence of common law in the EAC Partner States, are existing opportunities for the harmonization of company laws. We recommend that an active role be played by the EAC institutions, along with modernization of company laws, adoption of a common form of limited liability company, preferential treatment of companies registered in EAC Partner States, and removal of
restrictions on the formation of branches in respect of companies registered in EAC Partner States, among others.
Key words: East African Community, Common Market Protocol, Cross-border Business, Harmonization
of Law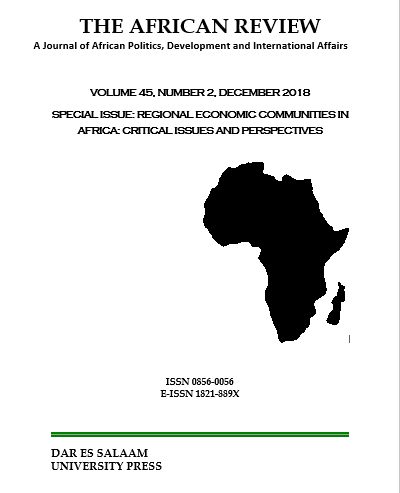 Copyright © by Department of Political Science and Public Administration, University of Dar es Salaam
All rights reserved. No part of this publication may be reproduced or transmitted in any form or by any means, electronic or mechanical, including photocopying, recording, or any information storage or retrieval system, without permission in writing from the publisher, except for short extracts in fair dealing, for research or private study, critical scholarly review or discourse with an acknowledgement.
The African Review: A Journal of African Politics, Development and International Affairs [ISSN 0856-0056 (Print) & ISSN 1821-889X (Online)] is published bi-annually, June and December by the Department of Political Science and Public Administration, University of Dar es Salaam, P.O. Box 35042 – Dar es Salaam – Tanzania