An Institutional Mission That Nobody Wants to Accomplish
Actors and Interests in the Genesis of the East African Political Federation
Alexander Makulilo

University of Dar es Salaam

Alexander Stroh

University of Bayreuth

Rodrick Henry

University of Dar-es-Salaam
Abstract
Is the political federation of East Africa an institutional mission that nobody wants to fulfil? The long history of this aspiration suggests at least that fundamental challenges persist as much as the will to go forward with political integration in the region. This contribution identifies political cycles taken by the project of deep political integration in the East African region. We argue that these cycles followed a very similar logic since independence. There is little evidence that the
political will has ever been strong enough to accomplish the mission. Paradoxically, political federation has not disappeared from the regional agenda although partner states have not worked effectively to realise it. We note that confederation has currently been opted as part of a necessary lag strategy with preference for non-implementation of the federation.

Key words: Political Federation, East African Community, Integration, Institutionalism, Colonialism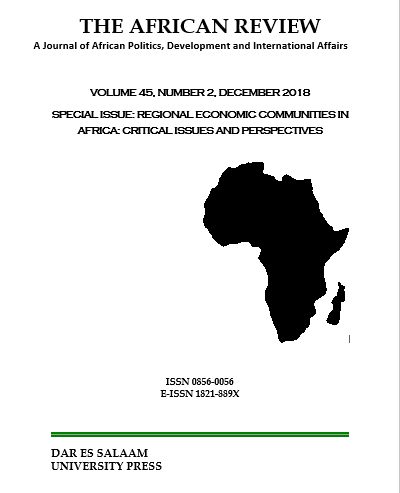 Copyright © by Department of Political Science and Public Administration, University of Dar es Salaam
All rights reserved. No part of this publication may be reproduced or transmitted in any form or by any means, electronic or mechanical, including photocopying, recording, or any information storage or retrieval system, without permission in writing from the publisher, except for short extracts in fair dealing, for research or private study, critical scholarly review or discourse with an acknowledgement.
The African Review: A Journal of African Politics, Development and International Affairs [ISSN 0856-0056 (Print) & ISSN 1821-889X (Online)] is published bi-annually, June and December by the Department of Political Science and Public Administration, University of Dar es Salaam, P.O. Box 35042 – Dar es Salaam – Tanzania