Legal Constraints and Opportunities of the 'Supranational' and 'Intergovernmental' Models for African RECs
Kamanga Khoti

University of Dar es Salaam
Abstract
International law accords states considerable leeway in the manner they choose to transact regarding matters of mutual interest. However, in respect of regional economic communities (RECs) three broad approaches seem to be inevitable. First, is that RECs have as their constitutive instrument, a multilateral treaty, Secondly, is the structured organization personifying the RECs spearheading the management and promotion of the RECs agenda. A third and related question which also confronts Partner States is whether the RECs should be structured on the model of a 'supranational' organisation (such as the European Union (EU) or turn towards the prevalent 'Intergovernmental Organisation' (IGO) model. This sub-project wishes to suggest that one particular area which might reveal the Achilles Heel of African RECs, and thereby contribute towards designing the appropriate interventions, is the issue of the 'intergovernmental organisation model'
spearheading RECs on the continent. The focus will be on the EAC and its sister REC, the Common Market for Eastern and Southern Africa (COMESA), since it is these two to which the majority of the six EAC Partner States are affiliated.

Key words: Regional Economic Integration, Models and Structures, Supranational Organization, Intergovernmentalism; Intergovernmental Organization, EAC, COMESA.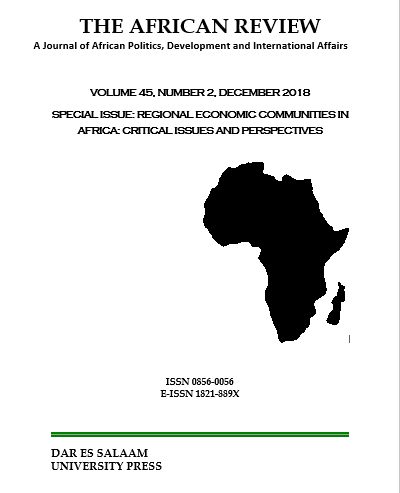 Copyright © by Department of Political Science and Public Administration, University of Dar es Salaam
All rights reserved. No part of this publication may be reproduced or transmitted in any form or by any means, electronic or mechanical, including photocopying, recording, or any information storage or retrieval system, without permission in writing from the publisher, except for short extracts in fair dealing, for research or private study, critical scholarly review or discourse with an acknowledgement.
The African Review: A Journal of African Politics, Development and International Affairs [ISSN 0856-0056 (Print) & ISSN 1821-889X (Online)] is published bi-annually, June and December by the Department of Political Science and Public Administration, University of Dar es Salaam, P.O. Box 35042 – Dar es Salaam – Tanzania