Did the Customs Union of the East African Community Increase Overall Trade of Kenya, Tanzania and Uganda?
David Stadelmann

University of Bayreuth

Raymond Boadi Frempong

University of Bayreuth
Abstract
We investigate the effect of the customs union of the East African Community (EAC) on overall trade per capita for its founding members Kenya, Tanzania and Uganda employing a synthetic control group as a counterfactual parameter. We do not find any systematic evidence that the customs union affected overall trade per capita for the founding members. Robustness and placebo tests support our main empirical findings. We briefly discuss potential reasons why the EAC
customs union may not have contributed to increasing overall trade for its founding members and stress that further evidence is required to draw definitive policy conclusions.
Key words: East African Community, customs union, regional trade, trade growth, synthetic control method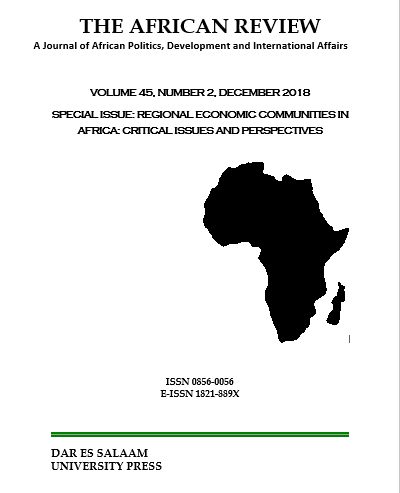 Copyright © by Department of Political Science and Public Administration, University of Dar es Salaam
All rights reserved. No part of this publication may be reproduced or transmitted in any form or by any means, electronic or mechanical, including photocopying, recording, or any information storage or retrieval system, without permission in writing from the publisher, except for short extracts in fair dealing, for research or private study, critical scholarly review or discourse with an acknowledgement.
The African Review: A Journal of African Politics, Development and International Affairs [ISSN 0856-0056 (Print) & ISSN 1821-889X (Online)] is published bi-annually, June and December by the Department of Political Science and Public Administration, University of Dar es Salaam, P.O. Box 35042 – Dar es Salaam – Tanzania