Defying the Looming Resource Curse with Indigenization? Insights from two Coal Mines in Tanzania
Faustin Maganga *

University of Dar es Salaam

Thabit Jacob
Abstract
Tanzania's rich mineral deposits coupled with poor performance of the mining sector have triggered a public debate on the imminent danger of the 'blessing' of mineral resources turning into a 'curse'. In efforts to possibly avoid the resource curse, the role of the state in mining through the revival of state-owned enterprises (SOEs) and the promotion of indigenous participation have been strengthened. Using accounts from semi-structured interviews, focus group discussions and secondary sources, we present insights from two coal sites; one where state-owned enterprise is involved in a joint venture with a western multinational (Tancoal) in Ngaka and the second, which was privatized to domestic investors connected to the ruling elites (Kiwira). Findings from the first case shows how state involvement as a strategy to avoid resource curse may violate the rights of small holders contrary to the popular discourse that state involvement is going to safeguard smallholder's rights. The second case shows how indigenization, which is meant to empower local investors, can be misused to enrich domestic investors and political elites through patronage networks.
* Corresponding Author: Associate Professor, University of Dar es Salaam, E-mail: fpmaganga@gmail.com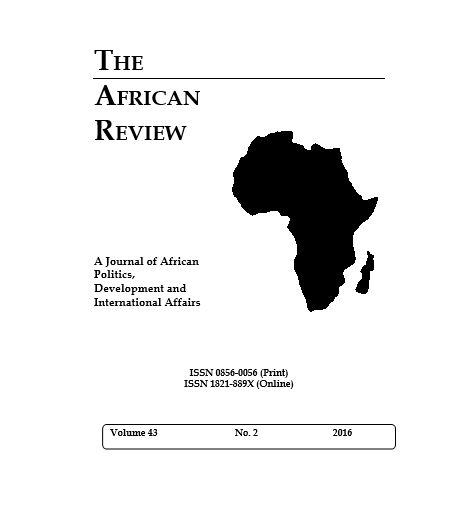 Copyright © by Department of Political Science and Public Administration, University of Dar es Salaam
All rights reserved. No part of this publication may be reproduced or transmitted in any form or by any means, electronic or mechanical, including photocopying, recording, or any information storage or retrieval system, without permission in writing from the publisher, except for short extracts in fair dealing, for research or private study, critical scholarly review or discourse with an acknowledgement.
The African Review: A Journal of African Politics, Development and International Affairs [ISSN 0856-0056 (Print) & ISSN 1821-889X (Online)] is published bi-annually, June and December by the Department of Political Science and Public Administration, University of Dar es Salaam, P.O. Box 35042 – Dar es Salaam – Tanzania